Production scheduling
INOSIM Expert
INOSIM Expert
Analysis of complex production and logistic processes
ProSim is the local representative of INOSIM, German company developing and distributing software and services for process industries.
Main features
INOSIM expert edition supports you in designing new or already existing processes and plants.
Reacting to changes in the production requirements (e. g., altered product mix, capacity extensions)
Analyzing a production´s resource efficiency or energy efficiency for improved sustainability
Generating mass or energy balances (e. g., for scaling up laboratory processes)
Simulating unexpected events (e. g., failures, staff drop out, fluctuations in supply and delivery)
Analysis of complex production and logistic processes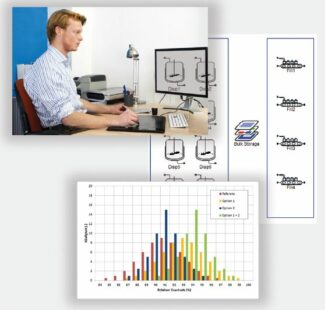 With INOSIM expert edition, at each phase of design or operation, you analyze your production and logistic processes, playing through alternatives. In doing so, you optionally apply preset operational models which are characteristical in process engineering, customize them if necessary, or you generate own models by yourself. By simulating, you gain information helping you to achieve a cost-effective, sustainable, undisturbed, and profitable production.
To professional users, INOSIM expert edition provides a broad range of modeling options, be it in production or in scientific research. This programmable simulation tool has been especially designed for experts in chemistry, process engineering, and bioengineering.
INOSIM expert edition represents plants and processes by flowsheets. Intuitively, you assemble single product plants or multi product plants applying batch or continuous processes, as well as all their mixed forms. In doing so, you optionally make use of given recipes and calculation models, or you customize the simulation´s behavior due to your specific needs, applying a Visual Basic programming environment.
With the push of a button, you start a simulation run. Now you can follow your plant´s behavior by watching the animated operations of your units. Afterwards, you can use a broad range of reports which were generated during the simulation, helping you to analyze your plant´s behavior. Thus you can analyze it, document it, and check alternative modes.