Waste & Effluent Treatment
Waste & Effluent Treatment
In the context of their environmental strategy, industry and local authorities are concerned about the treatment and monetization of waste and effluents. This effort must meet budgetary constraints, environmental standards and of course ensure process safety.
A significant R&D effort and unprecedented validation is performed by ProSim with global industry leaders to provide solutions for process simulation to meet this challenge.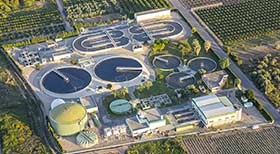 Waste & Effluent Treatment
Gas treatment
We work with the most innovative industrial companies in the sector to optimize the process of gas effluent treatment (NOx, VOC …) by different techniques (washing, absorption …).
The ProSimPlus software simulates and optimizes most of the processes of gas treatment (VOC, fumes …) or allow the study of carbon capture. ProSimPlus HNO3 is ideal when it comes to treating effluents containing NOx. When the approaches are limited by theoretical stages (absorption of certain pollutants up to a few ppm …), ProSim RBA that uses an approach using a "rate-based approach", allows then a very precise analysis. Treatment processes by adsorption (activated carbon for example) can be addressed with the ProSim DAC software dedicated to the dynamic simulation of the adsorption columns (gas-solid).
Application Case:
Treatment of waste gas
Flue gas treatment
Incineration
Carbon capture
Liquid effluent treatment – Solvent regeneration
ProSim expertise is used by the industry for the development of processes for the treatment of liquid effluents. Solvent regeneration is also an area of activity and expertise, for which our tools are widely used.
ProSimPlus and BatchColumn software are the must-have tools in process simulation dedicated to the process analysis of liquid effluent treatment and solvent regeneration.
Fully predictive thermodynamic models permit to understand the effluent treatments processes with poorly known properties. The effectiveness of continuous distillation columns models (ProSimPlus) or discontinuous (BatchColumn), the ability to take into account several liquid phases (phase separation, extractive or heteroazeotropic distillation) and chemical reactions (reactive distillation) are undeniable assets of ProSim solutions.
Application Case:
Water treatment
Regeneration of solvents
Treatment of solid wastes
Treatment and recycling of solid wastes involve very complex and various processes.
The ProSimPlus software is used by industries in this sector to optimize their treatment processes of solid waste or waste recovery.
Application Case:
Digesters
Incineration
Methanation