most of the industries covered
Each industry has its specificities and types of processes. ProSim offers a full range of software to support engineers in their decision-making, engineering studies and the operation of their processes.
Whatever industry you are interested in, modeling and simulation is a great way to understand and improve your processes to meet the growing demands for efficiency, safety and the environment.

ProSim has customers in practically all the process industries:

chemicals and petrochemicals: ammonia and fertilizer plants, olefins, ethylene crackers, polymers, fine and specialty chemicals, inorganic chemicals, solvent regeneration, etc.

gas and oil production: off-shore platforms, on-shore fields, LNG plants and terminals, gas dehydration, desulfurization, gas treatment, pipelines…

refining: atmospheric and vacuum distillations, isomerization, catalytic reforming, hydro-treatment, hydro-desulfurization, alkylation, FCC, visbreaking, etc.
energy: combined cycles / cogeneration, nuclear energy, coal treatment, gasification, water and utilities…

… and many other areas: alcohols, air separation, carbon capture and storage, bio-fuels, pharmaceuticals, ingredients, flavors and fragrance, pulp and paper, food industry, metallurgy…

Major industrial challenges addressed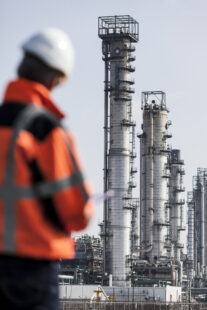 We guide you to efficiency
The use of simulation to design, develop, fine-tune or improve the operation of manufacturing processes has considerable advantages.
This makes it possible to easily and rigorously establish the material and energy balances on a complete process or a simple unit operation. The economic evaluation of CAPEX and OPEX as well as of the environmental impact calculation complete this analysis.
Compared to a more empirical or experimental approach, the modeling approach is:
Less costly: allows to carry out "virtual" experiments instead of "real" experiments in lab or on pilot plants which are often expensive in raw materials, staff … when exploring different ways and analyzing the influence of several parameters.
Very fast: it becomes possible to easily assess different process configurations, different operating conditions.
Safe: critical scenarios (very reactive chemical substances, high pressure and / or temperatures, etc.), emergency stops… can be studied, without risk for the equipment nor the personnel.
Innovative: one can easily explore unconventional technologies instead of reproducing on the industrial unit what is done in the lab.
Beyond these economic and operational advantages, the simulation approach allows a deeper understanding of the production process and the sustainability of this knowledge acquired in the form of a process model.
Simulation makes it possible to face, or even anticipate, a changing economic environment. Process modification studies can be done quickly (sensitivity analyzes) to meet new regulations (safety, environment). The impacts linked to new raw materials or to a different quality of products can be quickly estimated and the consequences in terms of investment evaluated.