Simulis Thermodynamics 2.0
Simulis Thermodynamics 2.0
ProSim announces the release of the 2.0 version of Simulis Thermodynamics, its calculation server for thermophysical properties and phase equilibria calculations
ProSim, leading European process simulation and optimization software provider, announces the release of a major new version of its best-seller, Simulis Thermodynamics. This new version offers new functionalities confirming that Simulis Thermodynamics is more than ever the best tool to perform mixture properties and fluid phase equilibria calculations.
With this new version of Simulis Thermodynamics 2.0 that is compatible with 64-bit applications (Excel®, Matlab®…), ProSim provides the industry with a more comprehensive and intuitive tool dedicated to thermodynamic calculations. As 64-bit applications are progressively installed in companies, ProSim reacted quickly to the growing need for a compatible tool with all IT applications. Previous versions of Simulis Thermodynamics were already running under 64-bit versions of Windows, but the new version can now be used in 64-bit applications (Excel®, Matlab®, or those within which you have embedded Simulis Thermodynamics).
Simulis Thermodynamics 2.0 includes a new and powerful pure-compound physical properties prediction tool for molecules. This is useful when some properties are not present in the database provided with the software (which already contains over 2000 components), or when you want to add new molecules to the database.
In this case, users will also appreciate the automatic splitting of user added molecules into appropriate functional groups for the predictive models (various UNIFAC, PSRK…); simply enter the SMILES string of the molecule.
Simulis Thermodynamics maintains the same organization of its interfaces, so existing users appreciate the new "look and feel" of the interfaces (updated to the most recent standards!) while still easily navigating within the software. The intuitive and simple interfaces allow for quick learning, use and an easy exploitation of the results.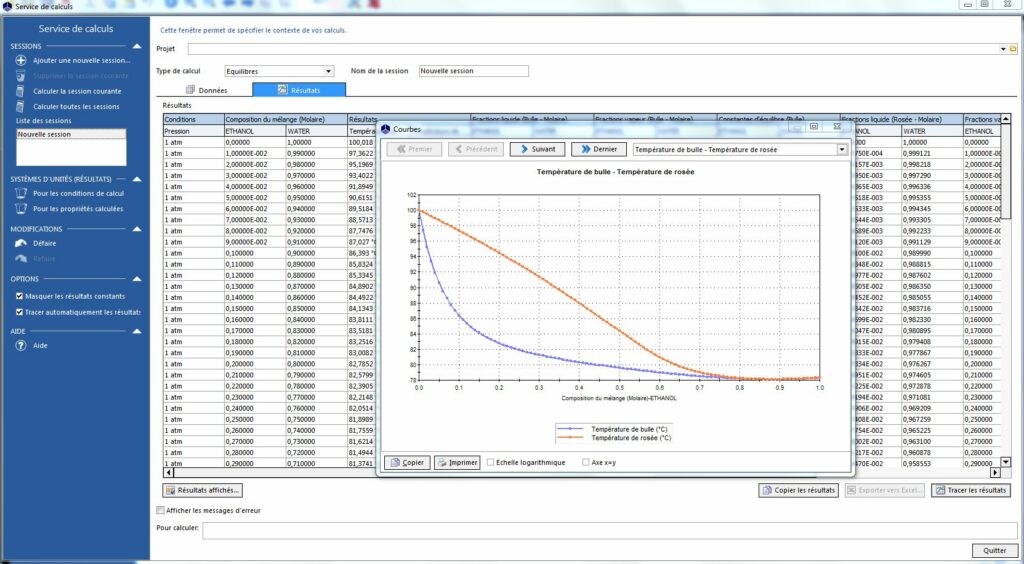 Simulis Thermodynamics is intended to model quickly and reliably, thermodynamic properties, transport properties and phase equilibria of most fluids encountered in the fields of chemical, petrochemical, refining, oil, gas and other process industries.
This software is already widely distributed by ProSim and is recognized as one of the most reliable solution on the market. It includes over 400 functions to compute all type of properties on multi-components systems like transport properties (specific heat, viscosity…), thermodynamics (enthalpy, compressibility factor…) or phase equilibria (LV, LL, LLV, salt formation).
Simulis Thermodynamics combines an extensive set of functions with an unmatched level of interoperability and strong capacities of integration and reusability. Developed on a component- oriented architecture and integrating the Microsoft® COM/DCOM middleware, Simulis Thermodynamics can be easily plugged into any application supporting these technologies (Excel®, Matlab®, C++, Delphi, Fortran…). Implementing the CAPE-OPEN "Thermodynamic plug" and "Thermodynamic socket", it can also create "property packages" to be used in other simulation environments that comply with this standard. Inversely, other property packages can also be used in Simulis Thermodynamics, and therefore in your application. In addition, users can easily integrate their own thermodynamic models in the Simulis environment.
As Simulis Thermodynamics is the "core" of all ProSim software, these new features are also available in the entire ProSim software suite (ProSimPlus, BatchColumn, BatchReactor, ProPhyPlus, ProSimPlus HNO3, ProSim DAC…).
To accompany the release of this new version of Simulis Thermodynamics, ProSim has updated for its users a complete set of application examples and tutorials on its website www.prosim.net.
Learn more about Simulis Thermodynamics…